What is Dexamethasone?
Dexamethasone is a synthetic corticosteroid compound, which helps to reduce inflammation (anti-inflammatory).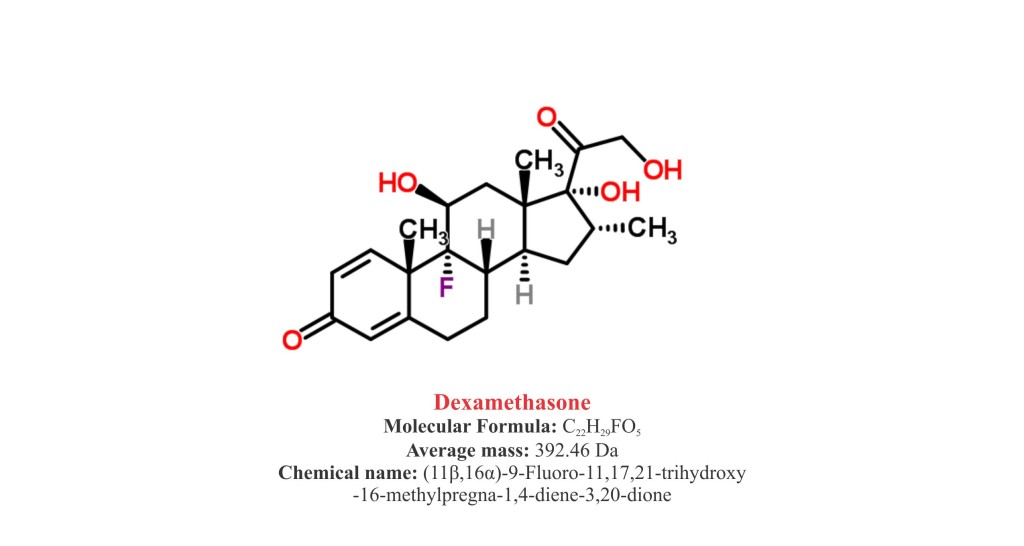 What is the generic and brand name of the Drug?
The drug is available under generic name Dexamethasone/ Dexamethasone sodium phosphate/ Dexamethasone acetate and Brand names Decadron, Dexasone, Diodex, Hexadrol, and
The drug is either used alone or in combination with antibiotics (i.e. Ciprofloxacin, Neomycin Sulfate, Polymyxin B Sulfate)
What is the source of the drug (natural or synthetic)?
Dexamethasone is a synthetic (man-made) pharmaceutical anti-inflammatory medication.
Why is this medication prescribed?
Dexamethasone is an anti-inflammatory corticosteroid medication that prevents inflammation.
Dexamethasone primarily works by preventing the release of substances that cause inflammation i.e. immunosuppressive effects.
The drug is generally used to treat a variety of inflammatory conditions such as allergic disorders, skin conditions (erythema multiforme), ulcerative colitis, arthritis, lupus, psoriasis, chronic obstructive lung disease, asthma or breathing disorders, and cerebral edema.
Besides this, the drug is also used for cancer, tuberculosis and a number of other infectious diseases.
The drug is ~ 25 times more effective glucocorticoid than cortisol, although the drug has negligible mineralocorticoid effect.
Due to widespread use WHO had listed Dexamethasone in the Model List of Essential Medicines, the most important medications needed in a basic health system.
Pharmacophore structure: Information about the chemical structure of the drug
Dexamethasone chemically belongs to the class of organic compounds known as 21-hydroxysteroids (i.e. presence of hydroxyl group at the 21-position of the steroid backbone). The detailed chemical classification of Dexamethasone is as follows.
| | |
| --- | --- |
| Kingdom | Organic compounds |
| Super Class | Lipids and lipid-like molecules |
| Class | Steroids and steroid derivatives |
| Sub Class | Hydroxysteroids |
| Direct Parent | 21-hydroxysteroids |
Chemical information of the drug
Dexamethasone is a synthetic pharmaceutical organo 9-fluoro-glucocorticoid compound named as (11β, 16α)-9-Fluoro-11,17,21-trihydroxy-16-methylpregna-1,4-diene-3,20-dione.
The compound has molecular formula C22H29FO5 and the molecular weight of 46 g/mol.
The melting point of Dexamethasone is 170-229 °C and is stable at ambient temperature.
Dexamethasone is a white to practically white crystalline powder.
Dexamethasone is readily soluble in ethanol, methanol, and acetone.
The maximal solubility of Dexamethasone in water is ~89 mg/L at 25 °C.
What are the different dosage forms of the drug?
The drugs are available in the form of tablet, oral solution, ointment, drops, elixir, powder, liquid and implant.
Dexamethasone injection is also available for the treatment of rheumatic, dermatologoical, gastrointestinal, respiratory, ophthalmic, neoplastic and edematous diseases and disorders.
The ophthalmic ointment and solution of Dexamethasone are available for the treatment of steroid responsive inflammatory conditions of eyes such as palpebral and bulbar conjunctiva, cornea, and anterior segment of the globe.
The Dexamethasone ophthalmic solution is also available for the treatment of steroid responsive inflammatory conditions of the external auditory meatus.
Topical cream or ointment of Dexamethasone is available to treat skin inflammatory problems.
Dexamethasone is also available in the form of oral aerosol or intra nasal aerosol to treat bronchial asthma and related corticosteroid responsive bronchospastic states and allergic or inflammatory nasal problems/ polyps.
What is the available strength of the drug?
Dexamethasone is available in tablet form or oral solution for administration through mouth.
It is available in different dosage strength of 0.5, 0.75, 1, 2, 4, 6 mg/tablet.
The tablet is yellow, pale yellow, blue, pink aqua and green colour and scored.
Each tablet contains active Dexamethasone and inactive ingredients like microcrystalline cellulose NF, croscarmellose sodium NF, FD & C Red # 40 Aluminum Lake, anhydrous lactose NF, and magnesium stearate NF.
Dexamethasone oral solution is available in two dosage of 0.5mg/5 mL and 1 mg/mL.
How the dexamethasone medicine works (mode of action)?
Dexamethasone and its synthetic derivatives (Dexamethasone sodium phosphate and Dexamethasone acetate) have been extensively used due to their anti-inflammatory or immunosuppressive properties.
Dexamethasone has the ability to penetrate the central nervous system (CNS).
Dexamethasone is principally a glucocorticoid agonist, which means it has high affinity to specific cytoplasmic glucocorticoid receptors.
Dexamethasone binds with high affinity to specific cytoplasmic glucocorticoid receptors and therefore modify the downwards cell signalling.
Dexamethasone binding with the glucocorticoid receptors results in inhibition of leukocyte infiltration (at the site of inflammation), suppression of humoral immune responses, interference in the function of mediators of inflammatory response, and reduction in edema or scar tissue.
The anti-inflammatory mode of action of Dexamethasone is supposed to be phospholipase A2 inhibitory proteins, lipocortins (controlling the biosynthesis of prostaglandins and leukotrienes, potent mediators of inflammation).

What are the recommended doses of Dexamethasone?
Oral doses usually ranges between 0.5-5mg per day as a single or multiple doses forms, while parenteral dose is 4-20 mg per day (IV or IM injection ) and 0.01% cream for topical use (2-3 times a day).
The usual recommended dose of Dexamethasone greatly varies depending on the disease condition.
The recommended dose of Dexamethasone to treat inflammation for adult is 0.75-9 mg/day for IV/IM/PO divided q6-12hr.
To treat severe or incapacitating allergic conditions (i.e. asthma, drug hypersensitivity reactions, atopic dermatitis, contact dermatitis, perennial or seasonal allergic rhinitis) the recommended doses of Dexamethasone is 4-8 mg IM (for day1), 3 mg/day PO divided q12hr (for day 2-3), 1.5 mg/day PO divided q12hr(day 4) and 0.75 mg/day PO in single daily dose (day 5-6).
To reduce inflammation the recommended doses of Dexamethasone is 0.75-9 mg/day IV/IM/PO divided q6-12hr.
In case of cerebral edema the Dexamethasone is recommended at an initial dose of 10 mg IV route. However the subsequent dose is reduced to 4 mg IM q6hr, until clinical improvement is observed.
For shock treatment Dexamethasone is usually recommended at a dose of 1-6 mg/kg IV once or 40 mg IV q2-6hr PRN.
Treatment should continue until disease progression or unacceptable toxicity occurs.
When should I discontinue, withhold or modify the dose of Dexamethasone?
Due to immunosuppressive property, the use of Dexamethasone should be discontinued during infections (Fungal infection, chickenpox, measles, ocular herpes).
Dexamethasone use is contraindicated under diabetes mellitus (corticosteroids may cause hyerglycaemia), Hypertension (Dexamethasone increases the blood pressure).
Avoid vaccination while using Dexamethasone. The vaccine may not work as well during this time, and may not fully protect you from disease.
Co-administration of Dexamethasone with phenytoin, phenobarbitone, ephedrine and rifampicin reduced the efficacy of the drug. Furthermore, co-administration of Dexamethasone increases the serum plasma level of phenytoin.
What are the pharmacokinetic properties of the drug?
Dexamethasone is synthetic corticosteroid that acts on metabolism and inhibits adrenal cortex. Apart from this, Dexamethasone also derepresses the synthesis, release and over all activity of endogenous mediators of inflammation. Furthermore, it also suppresses the host immune system / immunosuppressive action.
Pharmacokinetic studies suggested that after oral administration, Dexamethasone is rapidly absorbed in gastrointestinal tract (80-90%).
Following oral administration the bio-availability of Dexamethasone is about 80 %.
It has been observed that following a dose of Dexamethasone maximum (or peak) serum concentration is achieved in 1-2 hours.
Following absorption the majority (>70%) of the drug is bound to plasma proteins.
The average median plasma half-life of Dexamethasone is 1.8-3.5 hours.
The bio-availability of Dexamethasone is about 80 % after oral administration. It is metabolised in the liver.
The drug is mainly metabolized in the liver by CYP3A4 and subsequently cleared through biliary and renal excretion.
Plasma concentration of Dexamethasone following intravitreal implant does not appear to be related to age, gender and body weight.
Which pregnancy category (A; B; C; D; X) has been assigned to Dexamethasone?
The Dexamethasone is classified by US FDA pregnancy category: C.
Due to lack of adequate and well-controlled studies the use of Dexamethasone in pregnant women is contraindicated and recommended when no alternative is available and benefit justifies the risk.
Laboratory animal studies have shown the evidences of teratogenicity following oral or topical administration of Dexamethasone.
Steroids are usually secreted in breast milk in small amount. Although, adequate data is not available on excretion of Dexamethasone into human breast milk.
Despite these facts caution should be exercised when taking Dexamethasone.
How to use the drug?
Dexamethasone is available in tablet form for oral administration by mouth with or without food.
It is also recommended to take drug at almost the same time every day.
Follow the instructions carefully as directed on prescription leaflet and take Dexamethasone exactly as directed. Take the medication regularly, even if you feel well.
Usually within 2-3 weeks patients get the benefits from the drug.
Do not change the dose of the drug as prescribed by your doctor. Since, the dosage is based on patient medical condition and treatment responses.
Dexamethasone is also available in injection form and may also be given by infusion into a vein (intravenously or IV).
Dexamethasone is also available as eye drops and ointment to prevent inflammation of the eyes.
Dexamethasone lotion (for topical use) is also available to treat skin disorders.
The dose and schedule of Dexamethasone depends on various factors, including health conditions, medical background and associated diseases.
How to store the drug?
Dexamethasone is stored at 20 to 25°C (68 to 77°F) and excursion permitted to 15-30°C (59-86°F).
The container should be tightly closed and away from excess heat, moisture, direct sun light and reach of children.
Do not freeze or store the medicine at extreme cold too.
How to dispose the medicine?
Throw away unused and opened, outdated or no longer used container.
Also dispose the old medicine after the expiration date.
Does Dexamethasone has approval from government / FDA /or any other related agencies?
Dexamethasone has received its official approval from US Food and Drug Administration (FDA) to treat medical complications such as inflammation, arthritis; skin, blood, kidney, eye, thyroid, and intestinal disorders, severe allergies; and asthma and certain types of cancer.
Other uses of the drug
Dexamethasone may also be used for other uses not listed here. It is advisable to ask your doctor or pharmacist for more information.
What special dietary precautions should I follow?
Dexamethasone may upset the stomach therefore prescribed with food or milk.
Follow a routine protein rich, low-fat, low sodium/salt and potassium rich diet and avoid spicy foods.
Follow a strict exercise and dietary routine as per the recommendations of your health care provider.
Avoid use of alcohol beverages.
What special precautions should I follow/ What should I avoid while using Dexamethasone?
Do not use the medicine if you are hypersensitive or allergic to any of the ingredients.
Before taking Dexamethasone, tell your doctor about your medical history preferentially if you have any kind of Liver disease.
If you have any medical history of ulcers or if you are taking high doses of aspirin or other arthritis medication, while taking Dexamethasone, stop alcohol beverages consumption immediately. Since Dexamethasone can upset your stomach and intestines and makes them more prone to alcohol, aspirin, and certain arthritis medications and increases the risk of ulcer.
Discuss with your doctor and pharmacist what prescription and non-prescription medications you are taking. Precaution should be given if you are taking anticoagulants, arthritis medications, pain killer, diuretics, certain cancer drugs, oral contraceptives, antibiotics and vitamins.
During pregnancy this medication is recommended only when it is essential and under doctor or pharmacist supervision.
Since the information about excretion of drug in milk is not explored consult your doctor before breast feeding to your child.
Tell your doctor if you are pregnant, or planning to become pregnant, or are breast-feeding.
If you are having surgery tell your doctor that you are taking Dexamethasone.
If you have suffered from fungal infection (other than on your skin) or have ever had diabetes, an underactive thyroid gland, liver/ kidney disease, high blood pressure, intestinal, or heart disease, mental illness, myasthenia gravis; osteoporosis; ulcers, herpes eye infection; seizures and tuberculosis do not take Dexamethasone without talking /consultation with your doctor and pharmacist .
Do not share this medication with other persons having the similar kind of problems. Consult your doctor for more details.
What are the possible side effects of this drug?
The common side effects of Dexamethasone are as follows.
Diarrhea
Vomiting
Upset stomach and irritation
Headache
Dizziness
Insomnia
Anxiety and Depression
Acne
Abnormal hair growth, easy bruising.
Abnormal menstrual cycle
If symptoms persist and become more severe consult your doctor immediately.
If you experience any of these symptoms, call your health care provider immediately.
The Dexamethasone is usually well tolerated at prescribed dose limit, however in some individuals; Dexamethasone may cause the risk of serious side effects. The exact side effects of Dexamethasone are not available, although some of the common signs that need to be addressed immediately to your health care provider comprise:
Severe allergic reaction, hives, skin rashes, swelling of your face, lips, tongue, or throat.
Sudden problems in vision, swelling/swollen face, rapid weight gain and trouble in breathing etc.
Severe depression, strange thoughts or behaviour, seizure (convulsions) etc.
Prolonged infection, muscular weakness, bloody black or tarry stool, coughing up blood.
Symptoms of high blood pressure (blurred vision, severe headache, buzzing in your ears, chest pain, anxiety, shortness of breath, and uneven heartbeats).
Liver problems such as severe abdominal or stomach pain, yellowish eyes/skin, dark urine and persistent nausea/vomiting.
Symptoms of pancreatitis i.e. nausea and vomiting and severe pain in stomach, dizziness, itching/swelling, etc.
What should I do in case of overdose?
Try to avoid taking the overdose of the drug. If you overdose the drug contact with your doctor or pharmacist for symptomatic and supportive measures.
In case you or some other person has taken overdose of this medication contact your local poison control center at 1-800-222-1222 or emergency room immediately.
Call local emergency services at 911 in case a patient collapses or faces difficulty in breathing.
What should I do in case of missed a dose?
In case of missed dosage: If you are taking a dose which is less then 10mg /daily take it as soon as you remember and maintain a regular dosing schedule. If you are taking high dose of Dexamethasone (20-40 mg/day), please contact with your health care provides as soon as possible.
Skip the missed dose if it is almost time for your next scheduled dose. Keep in mind to not use a double dose to make up a missed dose.
Does Dexamethasone have any interaction with other drugs?
The Dexamethasone may interact with one of the following drugs. Care should be taken when you are taking these medications together. It is advisable that does not start, stop or change the medication by your own and without professional consult.
Blood thinner such as dabigatran/warfarin
Drugs that can cause bleeding/bruising, antiplatelet drugs clopidogrel etc.
Anti-HIV drugs: HIV protease inhibitors (e.g., indinavir), and certain combination HIV medication (elvitegravir/cobicistat/emtricitabine/tenofovir).
Isoniazid, mifepristone, temsirolimus, and thalidomide.
Aminoglutethimide, aprepitant, and birth control pill.
Certain cancer drugs such as dasatinib, sunitinib, , lapatinib and aldesleukin.
NSAIDs i.e. aspirin/celecoxib/ibuprofen.
Drugs affecting liver enzymes : these drugs may remove Dexamethasone from body.
Some of the common drugs such as azole antifungals (ketoconazole), barbiturates (phenobarbital, rifamycins), and anti-seizure medications (phenytoin, carbamazepine).
Before start the medication, it is recommended to inform your doctor or pharmacist about your medical history, all prescription and non-prescription and herbal products you may use.
Does Dexamethasone have any interaction with Diseases?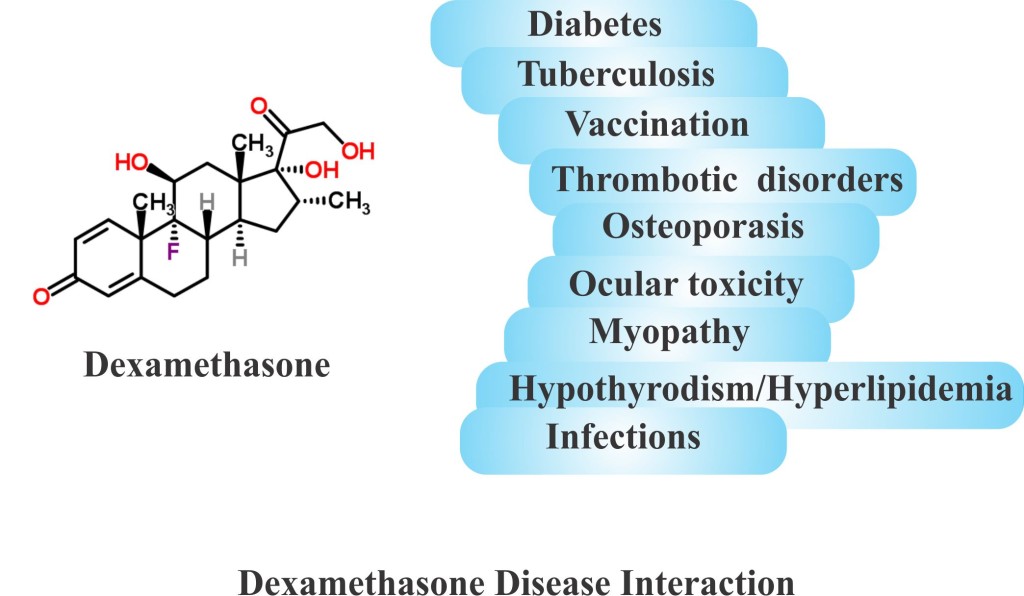 Chemically Dexamethasone is glucocorticoid steroid therefore it may interact with one or more than one of the following disease conditions.
Diabetes: Dexamethasone can raise blood glucose level through interfering /suppressing the insulin. It may cause inhibition of glucose uptake and increase gluconeogenesis. In this view, the use of Dexamethasone should be cautiously monitored in patients suffering with diabetes mellitus, glucose intolerance, or a predisposition to hyperglycemia.
Tuberculosis: The use of Dexamethasone may cause a reactivation of the diseases in patients with latent tuberculosis or tuberculin reactivity.
Vaccination: Dexamethasone is an immunosuppressive agent therefore the vaccination with live or live attenuated vaccines is contradicted when immunosuppressive dose of Dexamethasone is used.
Thrombotic or thromboembolic disorders: Due to possibility of blood coagulation Dexamethasone use has rarely been associated with the development of thromboembolism, intravascular thrombosis, and thrombophlebitis.
Osteoporasis: Since corticosteroids like Dexamethasone suppress the osteoblastic function and thus reduce or block intestinal calcium absorption; as a result, severe to moderate bone resorption and bone loss has been observed during prolonged therapy.
Ocular toxicity: Use of Dexamethsone may cause and elevate intraocular pressure (Glaucoma or damage to optic nerve) and posterior subcapsular cataracts.
Myopathy: Prolonged use of large doses of Dexamethasone may cause neuromuscular problems such as myopathy. The effect is more severe in case of patients with disorders of neuromuscular conduction (myasthenia gravis) or in patients receiving neuromuscular blocking agents.
Hypothyrodism: It has been observed that corticosteroids treatment has enhanced effects in hypothyroidism primarily due to decreased metabolism of these agents. It is advised that patients diagnosed with hypothyroidism should be monitored for excessive cortisol effects when given Dexamethasone.
Hyperlipidemia: Prolonged or long lasting use of corticosteroids results in elevated serum triglyceride and LDL cholesterol levels, therefore patients with pre-existing hyperlipidemia should be carefully monitor during Dexamethasone therapy.
Hyperadrenocorticalism: Since Dexamethasone is a corticosteroid, therefore it acts as an endogenous cortisol and aldosterone mimics. Thus, its use may potentially aggravate conditions of hyperadrenocorticalism .
Infections: Dexamethasone is principally used due to their immunosuppressive and anti-inflammatory property. The extensive use of Dexamethasone at higher doses may suppress the immune system to such extent that make the body susceptible to infectious agents, and mask the symptoms of infection. Furthermore, use of pharmacologic or immunosuppressive dosages of Dexamethasone may increase the possibility of helminths infections too.
Gastrointestinal perforation and hemorrhage: High dosages of Dexamethasone for longer duration may cause peptic ulcer disease, gastrointestinal perforation and hemorrhage. Dexamethasone therapy should be cautiously monitored in patients with diverticulitis, nonspecific ulcerative colitis, or recent intestinal anastomoses.
Apart from these diseases Dexamethasone use may cause fluid retention, elevated blood pressure, hypernatremia, hypokalemia.
Dexamethasone use may also aggravate the symptoms of psychosis and emotional instability and can increase excretion of calcium and can cause hypocalcemia.
It has been suggested that corticosteroids such as Dexamethasone is metabolized in liver, therefore, the exposure to Dexamethasone in patients with moderate or severe hepatic impairment is significantly higher than the normal individuals.
Where can I get more information?
Your pharmacist or health care provider can provide more information about Dexamethasone.
Clinical research and current scenario of the drug
Dexamethasone is corticosteroid agent that acts through suppressing the immune system to help relieve swelling, redness, itching, and allergic reactions. Dexamethasone provides relief for inflammation , severe allergies, asthma, adrenal problems, arthritis, skin conditions , blood or bone marrow problems, kidney problems, and flare-ups of multiple sclerosis.
The drug is also combined withmarbofloxacin and clotrimazole and used to treat difficult ear infections, in animals.
Synergistic effect is observed when Dexamethasone andondansetron are coadministrated over ondansetron alone in preventing postoperative nausea and vomiting.
Dexamethasone is also used to reduce the side effectsp of chemotherapy, counteract the development ofedema and as a direct chemotherapeutic agent in certain haematological malignancies.
Dexamethasone has also been used as anoff-label prenatal treatment for the symptoms of congenital adrenal hyperplasia (CAH) in female fetuses.
References from chemical, biological and toxicological databases
Some Concerns:
1. Can dexamethasone treat Meningitis?
2. Can dexamethasone cure horses skin conditions?
3. Can dexamethasone be prescribed for Iontophoresis?
4. Can dexamethasone for infertility work?
5. Could dexamethasone cause Keloid scar?
6. How effective is dexamethasone injection for knee Joint, back or arthritis pain?
7. Could dexamethasone cause acute lymphocytic leukemia (ALL)?
8. Dexamethasone to treat lichen planus
9. Can dexamethasone be effective for migraine treatment?
10. Could dexamethasone cause mouth sores?
11. How to use dexamethasone for multiple myeloma?
12. Using dexamethasone corticosteroids for multiple sclerosis
13. Dexamethasone in the treatment of acute mountain sickness
14. Will dexamethasone for muscle growth work?
15. Can you use dexamethasone for pink eye?
16. How to benefit from dexamethasone for rheumatoid arthritis?
17. Is it safe to use dexamethasone for root canal?
18. How dexamethasone can help patients undergoing radiation therapy
19. Treatment of spinal cord compression with the use of dexamethasone
12. Can dexamethasone cure sore throat?
13. Using dexamethasone to treat sciatica
14. Using dexamethasone to treat acute or chronic sinusitis
15. Snake bite, Can dexamethasone help?
16. Can swelling be reduced by dexamethasone?
17. Can kids be given dexamethasone?
18. What is thrombocytopenia and how does dexamethasone help?
19. Can dexamethasone be any help for thyroid storm?
20. Can dexamethasone cure severe tooth pain?
21. Is it safe to use dexamethasone for tonsillitis?
22. I want to use dexamethasone for ulcerative colitis. Can I?
23. What is vitiligo and how can dexamethasone help?
24. Dexamethasone for treatments of viral encephalitis
25. Dexamethasone injection dosage